This Site is dedicated to the development of your

ATTITUDE

, which is your ULTIMATE POWER. The content includes: Essays, Articles, Poems, Links, Inspirational stories, Quotes, Research, Music, an original series called the "Process" and Laughter....all focused on the
Pursuit, Capture, Care and Feeding of a Positive Mental Attitude.

Sunday, November 16, 2008
According to my good friend Annie of "A Nice Place Under the Sun" I am a Quiz Whiz.

Thank you Annie!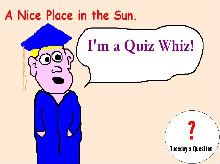 Posted by DubLiMan at 10:16 PM 9 comments  

Links to this post
Thursday, November 6, 2008
Posted by DubLiMan at 6:16 AM 15 comments  

Links to this post