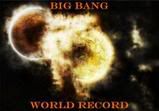 Let's face it; one of the main goals of joining a meme is to increase links. So, let's call a spade a spade and see how "Big" of a "Bang" we can get. The goal is to exceed 1,000 sites. Can it be done? With your help we will leave all the other memes in our dust! Just follow the instructions. No thought necessary.


My Tags for this meme:
Nonsense, fun, tears, happiness & anger all rolled into one!
Technorati Tags:
Big+Bang+World+Record
Big+Bang
World+Record